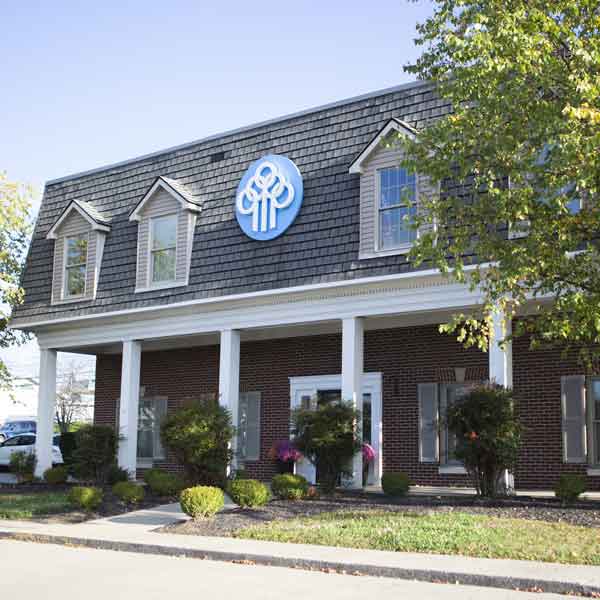 CVNB's North Richmond Branch
2110 Lexington Rd
Richmond, Kentucky 40475

859.623.2243
Lobby Hours
Monday 9:00 am - 4:00 pm
Tuesday 9:00 am - 4:00 pm
Wednesday 9:00 am - 4:00 pm
Thursday 9:00 am - 4:00 pm
Friday 9:00 am - 4:00 pm
Saturday Closed
Sunday Closed
Drive Thru Hours
Monday 9:00 am - 5:00 pm
Tuesday 9:00 am - 5:00 pm
Wednesday 9:00 am - 5:00 pm
Thursday 9:00 am - 5:00 pm
Friday 9:00 am - 6:00 pm
Saturday Closed
Sunday Closed
24/7 Drive Thru ATM
About this location
Our North Richmond Branch is located at the intersection of Lexington Rd and Keeneland Dr in Richmond, KY.  We are directly off of I75 Exit 90 A/B.
Drive-thru ATM
ATM accepts deposits
Drive-thru Teller Services
Night deposits accepted
Commercial deposits accepted
Consumer and Commercial lender on site
CSR for opening new accounts
Notary services for customers

Lobby services including Safe Deposit Boxes and account opening
Personal and Commercial Deposits accepted in drive thru as well as lobby
Change orders
Cash non-customer checks when written on a CVNB account
Coin Counter for loose coin.


Scott Osborn
VP, Commercial Lender
Scott brings an extensive background in banking, consumer, mortgage, small business, commercial, and C&I.
---

Evelyn Herren
Branch Manager & Consumer Lender

Richmond's Rich in History
CVNB's North Richmond Branch is conveniently located off of I75 at exit 90 A/B. We are within a short drive to The White Hall State Historical Site.
CVNB is proud to give back to Richmond through banking, lending and wealth management services. We are also members of the Richmond Kentucky community and actively give back both in volunteer hours and sponsorship contributions to many high impact organizations making our hometown a better place to live. The CVNB team at North Richmond and our bank market leaders continue to support:

The city of Richmond is centrally located in KY and is close to I-75. It is home to Eastern Kentucky University which was founded in 1906. Also, the Blue Grass Army Depot, which stores conventional munitions and chemical weapons, is located in Richmond.
---
Awards

CVNB won BEST OF THE BEST 2022 by the readers of Richmond Register, for BEST Bank President, Jeremy Brown, and BEST Loan Officer, Tammy Barrell.
Philanthropy
CVNB is this year's Presenting Sponsor for the Bourbon, Boots & BBQ Derby Eve Benefit hosted by Hospice Care Plus. The event will feature a live concert, hors d'oeuvres, a photo booth, and much more! All proceeds benefit Hospice Care Plus.
505 Leighway Drive
Richmond, KY 40475
859.623.2243
Lobby Hours
Monday - Friday 9:00am - 4:00pm
Saturday 9:00am - Noon
Drive Thru Hours
Monday - Thursday 9:00am - 5:00pm
Friday 9:00am - 6:00pm
Saturday 9:00am - Noon
24/7 Drive Thru ATM
900 Beasley Street, Suite 150
Lexington, KY 40509
859.268.1189
Lobby Hours
Monday - Thursday 9:00am - 4:00pm
Friday 9:00 - 5:00pm
Saturday & Sunday Closed
Drive Thru Hours
Monday - Friday 9:00am - 5:00pm
Saturday & Sunday Closed
24/7 Drive Thru ATM (99 cent foreign card fee)
Nicholasville Road Lexington
900 Beasley Street, Suite 150
Lexington, KY 40509
859.268.1189
Lobby Hours
Monday - Thursday 9:00am - 4:00pm
Fri. 9:00am - 5:00pm
Saturday & Sunday Closed
Drive Thru Hours
Monday - Friday 9:00am - 5:00pm
Saturday & Sunday  Closed
24/7 Drive Thru ATM
(99 cent foreign card fee)