There are many reasons to call CVNB your bank
We love our community. For us, that means putting you first.
We know not everyone fits the mold, so we treat you like you, not like everyone else. We are eager to help make your banking experience pleasant and rewarding in any way we can. From your first savings account to your retirement funds, we offer services for every stage of life. Our friendly staff will give you the personalized care you need to make your finances work for you.


Our community is our biggest priority, so we put special emphasis on security. We are constantly updating and innovating to make sure you and your information are protected. We have also installed safeguards for those times when fraud does occur. We are prepared and able to help you defend your privacy.
---
Mission Statement

A Caring Bank is a Better Bank.
At CVNB, we care about our customers and each other. Which means we care about building strong relationships with customers and providing an excellent banking experience for them. We also care deeply about their financial needs and giving them the information and guidance they need to make sound financial decisions. We want to facilitate a better financial journey for them and matter more in their lives. As a team, we care about each other and are all dedicated to creating a great work and bank environment for everyone. Because we care — because caring is at the core of everything we do. We believe CVNB is a better bank.


---
Our History
We at CVNB take pride in the fact that we offer our community the most innovative and efficient methods available. This has been our goal since day one in 1904.
We started out under the name East Bernstadt Banking Company, organized by W.Q. Harned. On May 26 of 1904, Mr. Harned announced that we would begin business later in the year, "and continue for a period of fifty years." Because of the quality of our service and our desire to serve our community, we have more than doubled Mr. Harned's prediction.
From the beginning we have strived to be on the cutting edge. In 1904 our bank was fully equipped with a capital stock of $15,000, the most modern furnishings available, and a large burglarproof safe. But we have not stopped there.
Though the closing of major coal mining operations had an adverse effect on business in East Bernstadt, our bank continued its successful operation there until it was moved to the Catching Building in London, thus becoming the Second National Bank of London. At that time its capital stock was increased to $50,000. In 1946, it was further increased to $75,000 and in 1951 to $100,000. The Second National Bank's published statement on April 15, 1954 showed a total capital account of $318,286.26, total assets of $3,782,794.44 and total deposits of $3,464,506.38.
Finding their quarters too crowded, the Second National Bank rented the storeroom next to them in 1948, doubling their available space. They remodeled with all new fixtures, a state of the art vault, and a new and improved facade.
The Second National Bank continued to grow with the community until October 1, 1972 when a name change was inevitable. The Second National Bank was no longer the "2nd" bank in town, but the 1st in customer service.
On July 1, 1993, another chapter was added to our history which expanded our community and allowed our bank to function more efficiently. Cumberland Valley National Bank & Trust Company and Corbin Deposit Bank & Trust merged, under a National Charter, becoming the largest bank in southeastern Kentucky. This marriage resulted in a branch system like no other in our region; several locations and a network of eight Automatic Teller Machines.
Shortly after, a branching boom began at CVNB, heralding many banking firsts in the late 1990s. CVNB opened its first branch in Williamsburg in 1996 and its first in-store bank at the London Wal-Mart Super Center in 1997. The first Madison County branch celebrated its grand opening in Berea and the first Richmond branch opened in 1998. During the new millennium, CVNB moved into Somerset, expanding our community once again, to include Pulaski County. Fayette County followed shortly after in January of 2007.
Today CVNB has 15 locations and many conveniently located ATMs to serve our customers. Our bank works for the best of communities, and in partnership, CVNB has a heritage of serving its customers from generation to generation. Our staff works for not only the largest locally owned bank in our market areas, but also the best!
---
 Board of Directors
Our directors, officers, and staff sincerely thank you for your loyal patronage over the years.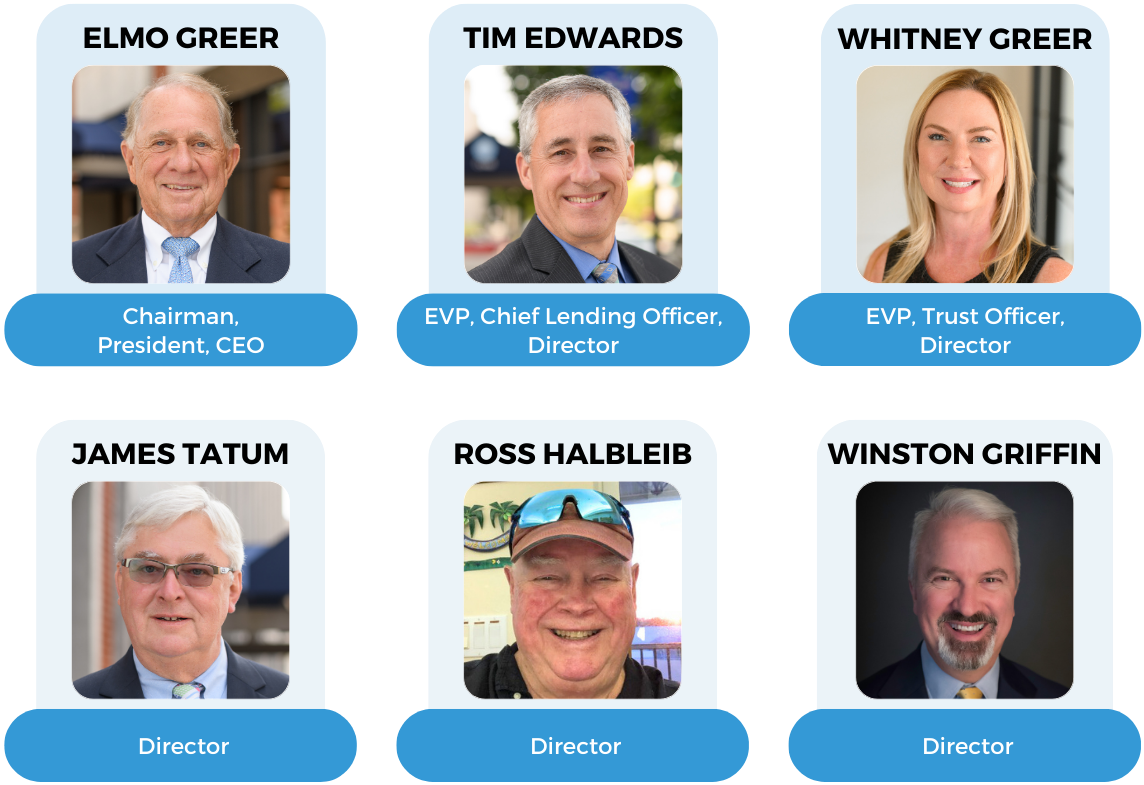 (Contains excerpts taken from an article in the Sentinel Echo in 1954)