Beware of Scam Texts Impersonating CVNB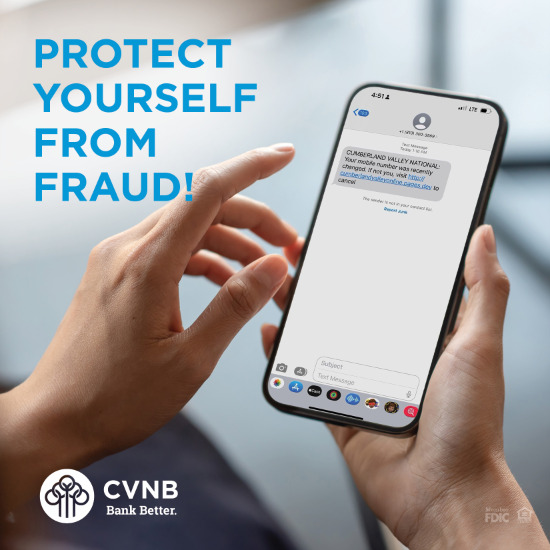 There have been reports of suspicious text messages circulating, claiming a 'recent mobile number change', 'Epay has been processed' or 'someone trying to access your account.' These messages may ask you to click a link.
If you receive an unsolicited message that seems suspicious,
DO NOT CLICK ON ANY LINKS
it contains.
Your security is our top priority and rest assured, CVNB will never send you messages of this nature. We take this matter very seriously, and we are actively working to track down those responsible to ensure this never happens again.
Your Urgent Action Required:


Do Not Click on Any Links: If you receive any text messages that seem suspicious or unexpected, do not click on any links contained within them. Clicking on these links may compromise your personal information and security.


Delete Immediately: If you have received any texts matching this description, delete them immediately from your device.


Stay Vigilant: Always remain cautious of unsolicited messages, especially those requesting sensitive information.
Additionally, remember never to send money through services such as Zelle and Bill Pay to instructions received from the link or someone you don't know and trust.
During this time, please exercise caution online.
If you have any questions or concerns, don't hesitate to contact us at
800-999-3126
, and our customer support team will be ready to assist you.
Thank you for your continued trust in CVNB. We are committed to maintaining a secure banking environment for you.