How To: Protect Information
Protect Your Information
Our new online and mobile banking is built on a state-of-the-art authentication platform that provides industry-leading security and even better convenience than you've experienced before. Here are tips on how to get started.
---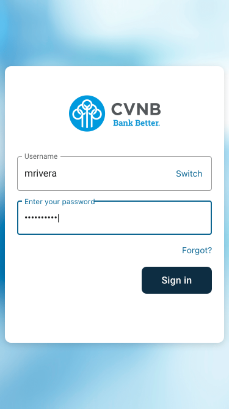 Password


The traditional username and password are the primary pathway to authenticating your account.


The password also gets used in certain conditions when we need to "challenge" you to prove your identity. This is determined based on a risk factor, depending on what you are trying to do. For example, if you are trying to set up an External Transfer account from your mobile device, you will be challenged to prove your identity using your password.


Because the password is critical, it needs to be secure. The system will coach you to ensure your password meets industry complexity standards. For more information, click on the "Password Rules" link during enrollment.


The password is used to authenticate you within the desktop online banking environment. Because of this, it can be subject to a "brute force attack" (an attempt to guess the password repeatedly). The system will lock your account after several failed login attempts in a row to protect you from this scenario. You will need to contact us if this occurs so that we can help you get logged back in.  

Forgot your password?


The 4-digit passcode is a new authentication method that secures your "sign-on" access to the mobile application from a single device.


The passcode is not used to authenticate in the desktop online banking environment.

The passcode is unique per device. You'll be prompted to create a separate passcode if you set it up on a second device.

Additionally, the passcode will only work on the device if you log in after several attempts. In this case, you will be required to log in with your username and password and set up the passcode again.

The passcode, therefore, is secure. It only works within the mobile application on which it was set up.

If your phone is lost or stolen, contact us or visit a branch, and we can assist you.
---
Biometric Login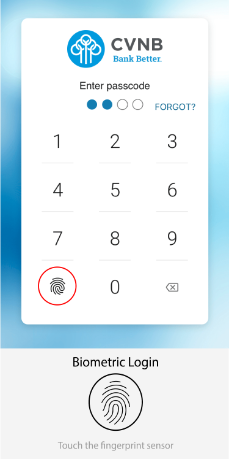 Biometric login is an alternative method using your fingerprint or facial recognition to securely and conveniently authenticate yourself in the CVNB mobile app.

Like the passcode, biometric logins are only used in the mobile application and are tied to a specific device.

CVNB mobile app does not store your biometric information. Instead, it relies on your phone to validate your identity. Therefore, the biometric login is specific only to the device on which your CVNB mobile app is set up.


To set up Touch ID, log in the CVNB mobile app and go to Settings.


Select Security, then turn on Touch ID option, then follow the onscreen instructions. 

---
Security
Do not use public or other unsecured computers for logging into Online Banking.


Do not login to online banking from public Wi-Fi, while it may be convenient to stay connected on the go, you cannot count on it to be secure. Some security risks posed by public Wi-Fi include:

Man-in-the-middle attacks, in which hackers can electronically "eavesdrop" on your banking and other online activity
Data transmissions over unencrypted networks
Malicious hotspots
Malware and spyware


Review account balances and transaction details regularly (preferably daily) to confirm payment and other transaction data and immediately report any suspicious transactions to CVNB.


Sign up for balance and transaction alerts by email, text, or both.


Be wary of Phishing scams we will never call or email you requesting your username, password, Personal Identification Number (PIN), or answers to your security questions.


If attachments and links in email are unexpected or suspicious for any reason, do not click on them.


Keep anti-virus/anti-malware software installed and up to date on computers accessing online banking.


Never leave devices unattended unless they are locked so no one else can use them.


---
Protect your mobile device by:
Adding a PIN or Touch/FaceID to unlock.


Only install apps from trusted sources such as Apple App Store or Google Play.


Keep the operating system up to date.


Avoid transmitting or storing personal information on the device.


Use Apple's Find my iPhone or the Android Device Manager tools to help prevent loss or theft.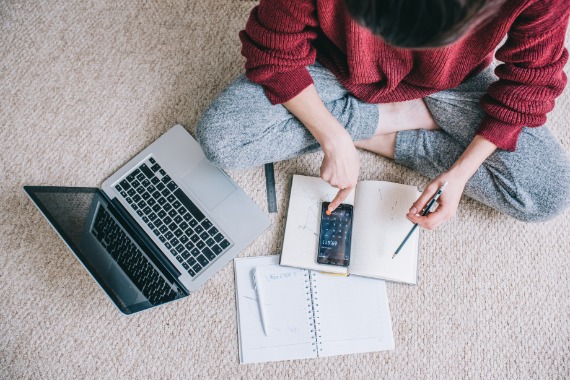 Need Help?
Contact one of our friendly service representatives by calling 800.999.3126, or click the button to fill out a contact form.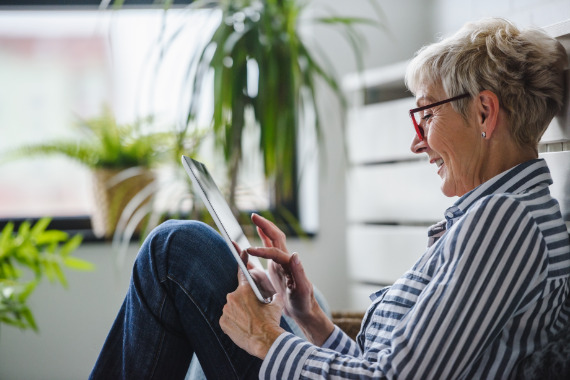 Need help? Check out the user guide to learn how to get started! 
Make sure know your username and password, and have your current mobile number and email address on file with us.